Welcome to Claim Your Youth Club — offering a great financial education for teens! And it's FREE!
Claim Your Youth is a teen-specific educational program designed for youth ages 13-21. The club helps adult members solidify their financial independence. Claim Your Youth is designed to answer common finance questions that hinder teens' ability to take control of their finances, using topics and content that is relevant to them. Claim Your Youth helps teens work through one of the most challenging periods of financial literacy development.
Claim Your Youth empowers young adult members to be in control of their financial future from the outset. It pushes them to a holistic understanding of the larger financial system and their place within it.
Click here to go to our Claim Your Youth website where you'll find 1) continuously updated, relevant financial articles 2) opportunities for member contributions 3) tools, tips and resources to help teens manage their finances 4) calculators that give teens a chance to understand the "numbers" side of budgeting and 5) an ability to reach teens where they are the most comfortable with texting and email alerts.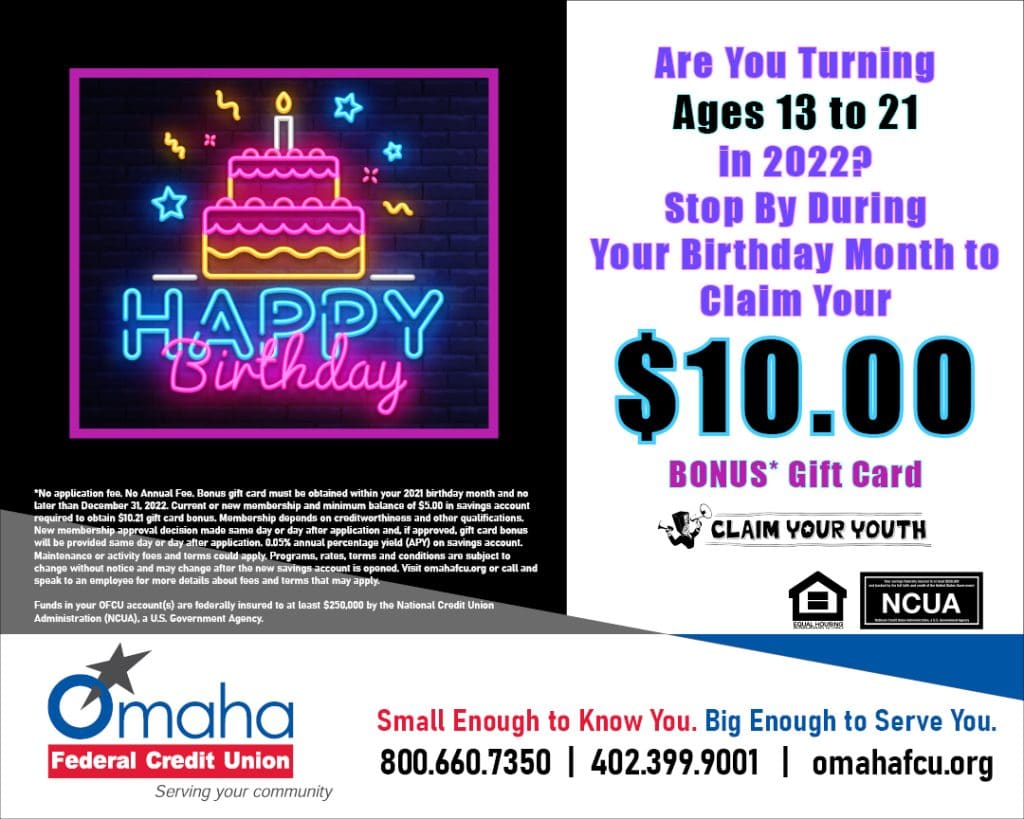 *No application fee. No Annual Fee. Bonus gift card must be obtained within your 2021 birthday month and no later than December 31, 2022. Current or new membership and minimum balance of $5.00 in savings account required to obtain $10.21 gift card bonus. Membership depends on creditworthiness and other qualifications. New membership approval decision made same day or day after application and, if approved, gift card bonus will be provided same day or day after application. 0.05% annual percentage yield (APY) on savings account. Maintenance or activity fees and terms could apply. Programs, rates, terms and conditions are subject to change without notice and may change after the new savings account is opened. Visit omahafcu.org or call and speak to an employee for more details about fees and terms that may apply.
Funds in your OFCU account(s) are federally insured to at least $250,000 by the National Credit Union Administration (NCUA), a U.S. Government Agency.