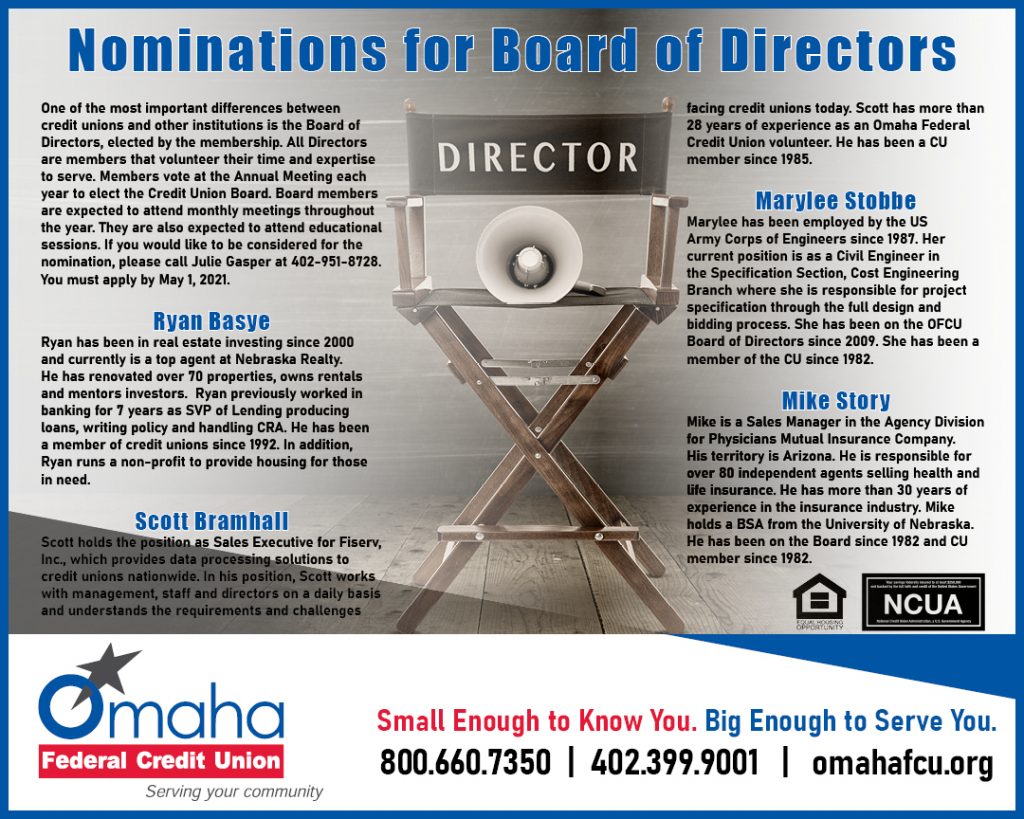 One of the most important differences between credit unions and other institutions is the Board of Directors, elected by the membership. All Directors are members that volunteer their time and expertise to serve. Members vote at the Annual Meeting each year to elect the Credit Union Board. Board members are expected to attend monthly meetings throughout the year. They are also expected to attend educational sessions. If you would like to be considered for the nomination, please call Julie Gasper at 402-951-8728. You must apply by May 1, 2021.
Ryan Basye
Ryan has been in real estate investing since 2000 and currently is a top agent at Nebraska Realty. He has renovated over 70 properties, owns rentals and mentors investors. Ryan previously worked in banking for 7 years as SVP of Lending producing loans, writing policy and handling CRA. He has been a member of credit unions since 1992. In addition, Ryan runs a non-profit to provide housing for those in need.
Scott Bramhall
Scott holds the position as Sales Executive for Fiserv, Inc., which provides data processing solutions to credit unions nationwide. In his position, Scott works with management, staff and directors on a daily basis and understands the requirements and challenges facing credit unions today. Scott has more than 28 years of experience as an Omaha Federal Credit Union volunteer. He has been a CU member since 1985.
Marylee Stobbe
Marylee has been employed by the US Army Corps of Engineers since 1987. Her current position is as a Civil Engineer in the Specification Section, Cost Engineering Branch where she is responsible for project specification through the full design and bidding process. She has been on the OFCU Board of Directors since 2009. She has been a member of the CU since 1982.
Mike Story
Mike is a Sales Manager in the Agency Division for Physicians Mutual Insurance Company. His territory is Arizona. He is responsible for over 80 independent agents selling health and life insurance. He has more than 30 years of experience in the insurance industry. Mike holds a BSA from the University of Nebraska. He has been on the Board since 1982 and CU member since 1982.