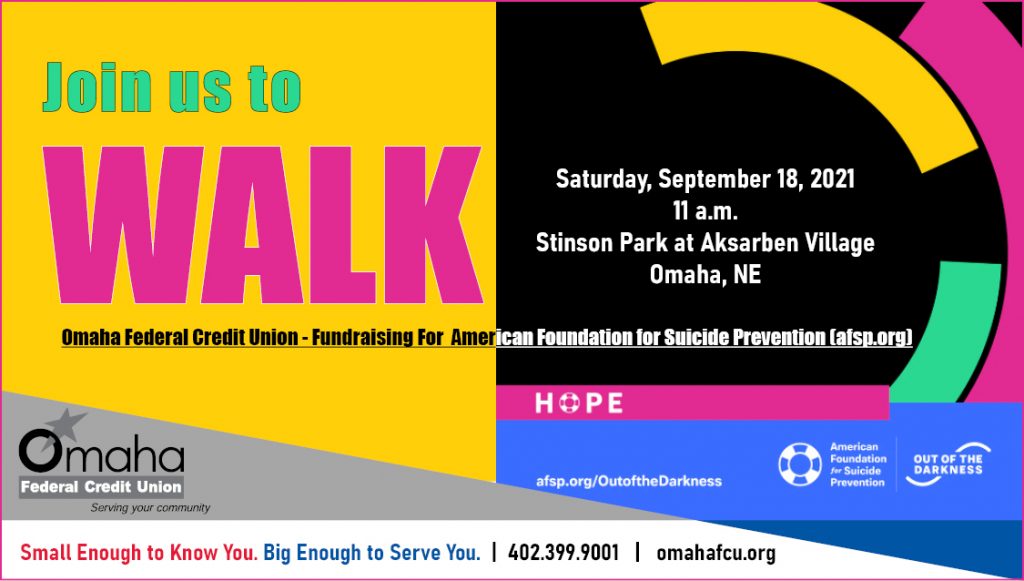 Omaha Federal Credit Union has joined a community of caring people from hundreds of cities across the country in support of the American Foundation for Suicide Prevention's mission to save lives and bring hope to those affected by suicide.
You can help us reach our goal by spreading awareness about Omaha's Out of the Darkness Community Walk on September 18 at 11 a.m. It will be held at Stinson Park at Aksarben Village in Omaha. What better way to show men and women that they are never alone in their experiences? What better way to lead real change within the communities that we live in and work? Whether it is to honor a loved one, to raise awareness about prevention, to cherish a lost friend's memory, to support each other or someone who is struggling, or to open up the conversation, we are walking side-by-side to help lead the fight against suicide. And, in the process, we have the opportunity to save lives, and to cultivate a culture that's smarter about mental health and more empathetic to humankind.
You can support this important cause by becoming involved in the following ways:
SUPPORT – Join OFCU's team (no need to donate, walk or volunteer)
WALK — Participate with OFCU's Team at the Walk on Sept. 18 at Stinson Park

Go to link in Step 1 or CTRL CLICK the WALK icon below
Select JOIN OUR TEAM, then follow the prompts to register. Everyone must register.
Then, mark your calendar to walk with us on Sept. 18. Enjoy music, food, raffles, vendor booths and – of course — camaraderie!
If you'd like to raise funds for the Walk and/or donate, feel free to do so on our OFCU Team website page (CTRL CLICK the WALK icon below)! However, donating and fundraising are NOT required to walk.

DONATE – Just interested in contributing funds, but not necessarily doing the Walk?
VOLUNTEER your time at the Walk on Sept. 18 or directly with AFSP
COMBO of any of the above!

Support, Walk, Donate, Fundraise and/or Volunteer – it's all up to you!
Once registered, you can donate to others in support of THEM, and/or others can donate to you in support of YOU!
All donations are 100% tax deductible and will help bring AFSP one step closer to achieving its bold goal to reduce the suicide rate 20% by 2025.
For more information about the Omaha Walk, go to: AFSP Out of the Darkness Community
For fundraising tips, go to: Fundraising Tips and Tools (afsp.org)
FOR FAQs, go to: Frequently Asked Questions (afsp.org)
If you have any questions, please call 402.399.9001.
Thank you in advance for your support!
P.S. Register today and be part of the movement uniting #TogetherToFightSuicide and bringing suicide out of the darkness in our communities.