Please join us by donating to CenterPointe Campus for Hope this holiday season! Hope! Healing! Happiness! https://bit.ly/3lGNoMZ https://amzn.to/3iF3gAb
To buy Santa Letters or donate adult gifts and toys, stop by our OMAHA MAIN BRANCH at 3001 S. 82nd Ave., Omaha, NE 68124; our BLAIR BRANCH at 1409 Washington St., Blair, NE 68008; or our DOWNTOWN BRANCH at the Zorinsky Federal Building at 1616 Capitol Ave., Rm 187, Omaha, NE 68102.
Please note: Santa Letters are only available to purchase thru Nov. 5, 2021.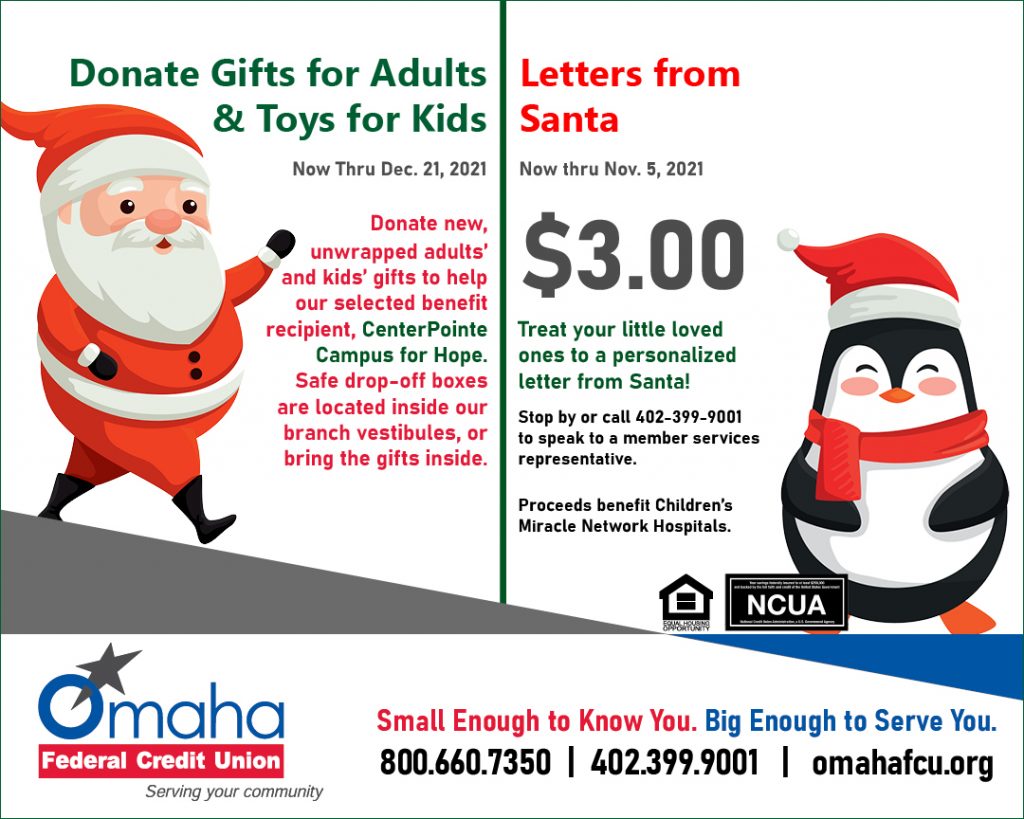 Don't miss our 2nd annual holiday Hope, Healing and Happiness fundraising campaign running now through Dec. 21, 2021. Stop by one of our branches to donate unwrapped gifts, monetary funds and/or gift cards to help this year's benefit recipient, CenterPointe Campus for Hope.
CenterPointe Campus for Hope offers both short- and long-term residential programs, as well as peer support, for people suffering with mental health and substance use issues. The majority of people CenterPointe sees experience both severe and persistent mental illness and addiction issues. Nearly every individual CenterPointe serves has very low or no income when they enter the program. They are truly the most vulnerable people in our community.
CenterPointe uses a holistic approach by treating the whole person, not just one aspect of his/her challenges. In doing so, mental health, physical health and addiction can be addressed together in real time.
Since its start in 1973, CenterPointe has been a leader in holistic healthcare. CenterPointe acquired the Campus for Hope facility in 2017 to better serve people in the Omaha community. CenterPointe is in the process of expanding its programming at Campus for Hope to be able to serve more men, women, teens and veterans, and help them to take steps on their journey toward a healthier life.
CenterPointe's mission is to help the people they serve get better, sooner, for longer."
Specific items needed include hygiene products such as deodorant, toothpaste and toothbrushes, bar soap, disposable razors, shampoo/conditioner, combs and brushes.
Clothing items needed include sweatpants (unisex sizes medium to 3XL), T-shirts (sizes medium to 3XL), women's underwear and bras (sports bras work well), men's boxers, sweatshirts and socks.
Gift cards to Walmart, Target or similar stores (Dollar General, Dollar Tree and Family Dollar) are appreciated, too.
Click here for an additional list of Amazon items needed.