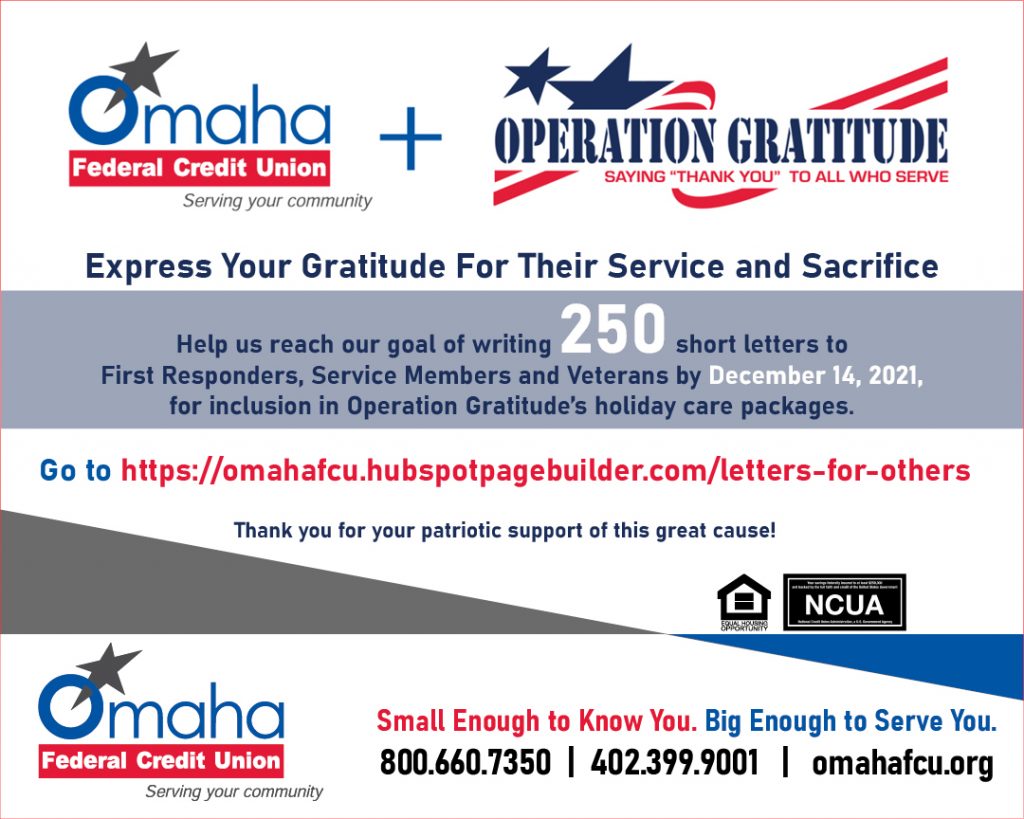 We are kicking off our inaugural Operation Gratitude Holiday Letter Writing Campaign. The goal is to gather 250 letters and get them to Operation Gratitude by Dec. 14. They, in turn, will distribute the letters in holiday care packages that they supply and ship to first responders and military personnel.
Go to the following link to quickly write one or more short letters of appreciation, then SUBMIT! It's so quick and easy to do!
https://omahafcu.hubspotpagebuilder.com/letters-for-others
You can also do a handwritten hard copy letter using the Adult Letter Template or the Kids' Letter Template (links to both attached below).
Won't you please consider writing a note for the holidays? It will make the recipient's day and make him/her smile. Plus, it's all about giving back this holiday season!
Here are a few things to consider:
Providing your Last Name, Email and/or Signature is optional. If an email is provided, Operation Gratitude relayed that a high percentage of recipients will respond to the email provided.
In your letter, feel free to include a little about yourself and why you are taking time to recognize their service, sacrifice and courage. When drafting your message, please avoid excessive religious comments, mentions of politics and negative content.
Recruit your kids, family and friends to also write letters using the link above or the attached hard copy templates below.
The Kids template (attached below) offers space to color and to write. Children only need to do 1 of the 2 areas. But they are welcome to do both.
If you are doing handwritten letters, please bring them to one of our branches.
The deadline to submit letters is Dec. 13, 2021.
WHAT YOU CAN DO NOW TO HELP: Join in the fun and go out of your way to make someone else's day – starting today! Don't Wait!
Your participation is very much appreciated!
Adult Letter Template (print out, complete and bring to one of our branches)
Operation Gratitude: Letter Template for Adults
Kids' Letter Template (print out, complete and bring to one of our branches)
Operation Gratitude: Coloring/Letter Template for Children
For more information about Operation Gratitude and how well received their Letter Writing Campaign is, check out this quick video from the Founder of Operation Gratitude, a 20-year retired Veteran himself.
Operation Gratitude – Paracords & Letter Writing – 5 minute version – YouTube
For a bird's eye view of what Operation Gratitude really does and how they do it, watch this inspiring video:
Operation Gratitude Ethos – YouTube
Also, here is another link for your review:
Operation Gratitude Overview — Operation Gratitude is the largest and most impactful nonprofit in the country for hands-on volunteerism in support of military, veterans and first responders.