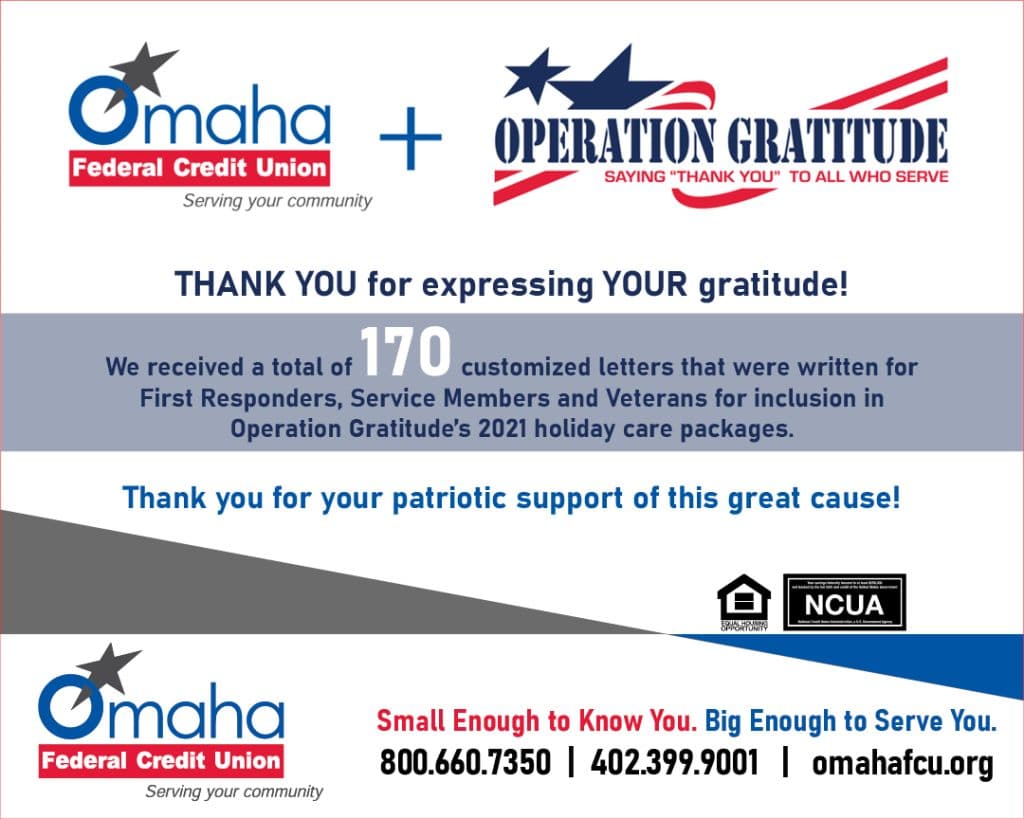 A special THANK YOU goes out to all who supported our first-ever Letter Writing Campaign for Operation Gratitude! We gathered 170 customized handwritten letters, which were sent to Operation Gratitude for inclusion in holiday care packages for First Responders, Service Members and Veterans.
As James Johnson, Major General, USAF (Ret.) and CEO of Operation Gratitude, said, "Thank you for continuing the Operation Gratitude journey that began in 2003 and your donation that results in a care package that shows them we care about their service and sacrifice! We wish you and yours all the best in 2022!"
He continued by saying, "As we reflect on all we accomplished in 2021, it's clear we would not have been successful without the generosity of Americans who dedicated their time and resources to say thank you to those who serve. Every care package, handmade item or letter of gratitude a service member or first responder receives, sends a strong message that we support those who have raised their hand to serve. This year we honored the service of more than 350,000 military, first responders, healthcare workers, veterans and their family members."
For more information about Operation Gratitude and how well received their Letter Writing Campaign is, check out this quick video from the Founder of Operation Gratitude, a 20-year retired Veteran himself.
Operation Gratitude – Paracords & Letter Writing – 5 minute version – YouTube
For a bird's eye view of what Operation Gratitude really does and how they do it, watch this inspiring video:
Operation Gratitude Ethos – YouTube
Also, here is another link for your review:
Operation Gratitude Overview — Operation Gratitude is the largest and most impactful nonprofit in the country for hands-on volunteerism in support of military, veterans and first responders.