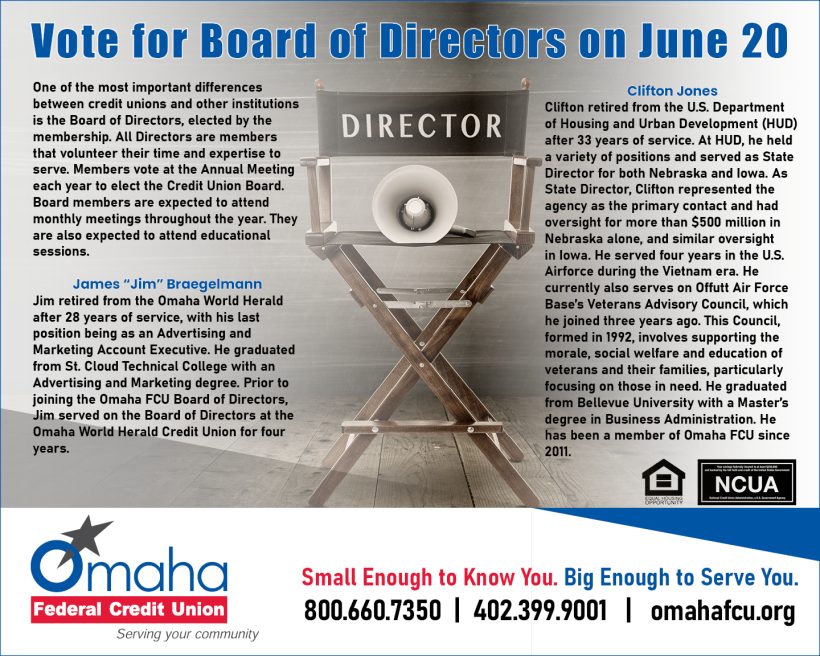 One of the most important differences between credit unions and other institutions is the Board of Directors, elected by the membership. All Directors are members that volunteer their time and expertise to serve. Members vote at the Annual Meeting each year to elect the Credit Union Board. Board members are expected to attend monthly meetings throughout the year. They are also expected to attend educational sessions.

James "Jim" Braegelmann
Jim retired from the Omaha World Herald after 28 years of service, with his last position being as an Advertising and Marketing Account Executive. He graduated from St. Cloud Technical College with an Advertising and Marketing degree. Prior to joining the Omaha FCU Board of Directors, Jim served on the Board of Directors at the Omaha World Herald Credit Union for four years.

Clifton Jones
Clifton retired from the U.S. Department of Housing and Urban Development (HUD) after 33 years of service. At HUD, he held a variety of positions and served as State Director for both Nebraska and Iowa. As State Director, Clifton represented the agency as the primary contact and had oversight for more than $500 million in Nebraska alone, and similar oversight in Iowa. He served four years in the U.S. Airforce during the Vietnam era. He currently also serves on Offutt Air Force Base's Veterans Advisory Council, which he joined three years ago. This Council, formed in 1992, involves supporting the morale, social welfare and education of veterans and their families, particularly focusing on those in need. He graduated from Bellevue University with a Master's degree in Business Administration. He has been a member of Omaha FCU since 2011.